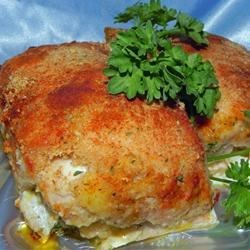 8 4 ounce skinless, boneless chicken breast halves
1/2 teaspoon black pepper
SEASONED BUTTER
1/4 teaspoon black pepper
1/4 teaspoon garlic powder
1 teaspoon dried dill
1/2 cup all-purpose flour
1/2 cup dry bread crumbs
2 cups vegetable oil
GARNISH
1/2 lemon, sliced
1/4 chopped fresh parsley
To make the Seasoned Butter:
Combine the butter, 1/2 teaspoon pepper, and 1 teaspoon garlic powder in a small bowl, mixing well. Spread the mixture into a 2x4 inch rectangle on a piece or aluminum foil; freeze until firm.
Meanwhile, place each chicken breast between a sheet or waxed paper and pound to about 1/8 inch thick, being careful not to tear the chicken. Wrap and refrigerate until the seasoned butter is frozen.
When the butter is firm, cut it into 8 equal size pieces and place one piece on each chicken breast. Fold in the edges of the chich the roll the breast to encase the butter completely. Secure the chicken with toothpicks.
In a small bowl, beat the eggs with the water. In a shallow bowl, mix the 1/4 teaspoon pepper, 1p4 teaspoon garlic powder, dill, and flour. Place the bread crumbs in a separate shall bowl. Dip the chicken rolls in the seasoned flower, the the egg mixture, then the bread crumbs. Lay the chicken breasts on a plate and refrigerate for about 30 minutes.
Heat the oil in a large skillet over medium high heat. When the oil is hot, deep fry the chicken rolls for about 5 minutes. Turn the chicken over and fry another 5 minutes until chicken is golden and cooked through with no pink showing inside.
Drain chicken on paper towels and place on a serving platter. Garnish with lemon slices and parsley.